Back to blog
For Those Littlest Feet!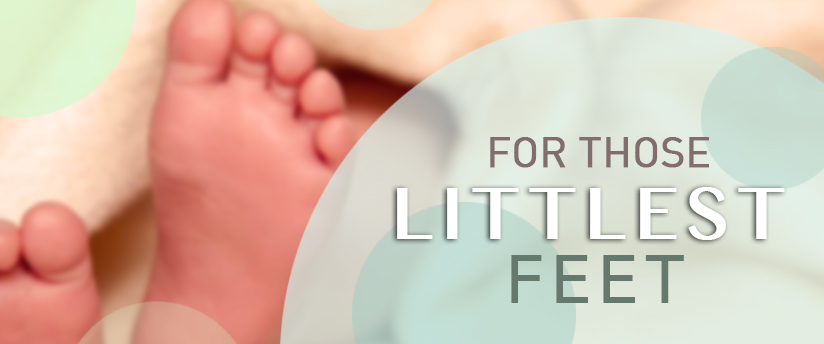 It's a delight to watch your baby take his/her first tiny steps. It's one of the most exciting milestones for parents. It's a parent's duty to make sure that they find the smartest (and cutest) baby shoes to safely anchor their precious new walkers, though it is not as easy as it sounds!
You obviously agree that baby shoes are adorable and cute, so won't parents find it difficult to choose the right one for their little one?
Before heading on to the why and how's of baby shoe shopping, it is important to understand that a toddlers' bones in their feet are made of soft and flexible cartilage that slowly hardens over time. Jamming their feet into shoes that are ill-fitting can stop their growth and movement.
Points to keep in mind while you pick the right shoe:
The Top:
The top (frontal area) of the shoe should always have some empty room for the child's toes to be free. Also, make sure that the top is always, and we mean always, rounded instead of pointy.
The Size:
It is hard to find a shoe that the child is comfortable with at that exact moment. Try to find a size and model that will fit the child for another 5-6 months at least. This means that you should pick a shoe that's slightly larger, but not too loose for the child to topple over.
The Material:
Pick a material which provides your child's feet with the ultimate possible quality, making their skin completely safe from any infections. We say, Leather's best!
The Sole:
Better to opt for shoes with rubber soles for traction to prevent slipping or sliding.
Let's move on to the type of baby shoes! The agenda here is to find something fitting their (and your) taste while keeping in mind their comfort.
Soft Soles:
For your newborn, soft soles are a perfect choice, when you go to a family reunion or a party. Give the child some delicate shoes made of cotton sateen for a classic style.

Sneakers:
Pink, blue, black, or any colour for that matter, sneakers make the best possible choice! Our recommendation from this category is the low-tops with bigger toe areas since parents will never have to worry about their child's toes being suffocated.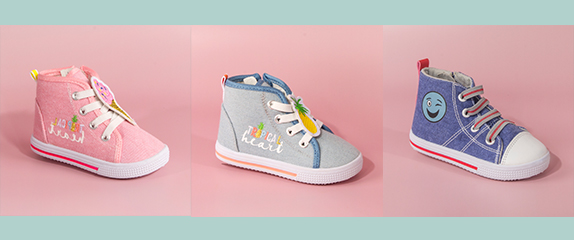 Ballerinas:
Ballerina-style shoes made exclusively for girls offer superior comfort and versatility, no matter what the child is doing and on what kind of terrain. These shoes are extremely breathable and lightweight, which makes them the ideal summer footwear.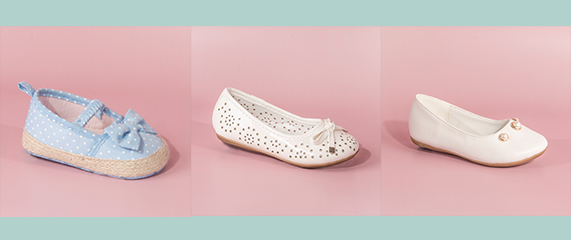 Slap-ons:
These shoes are famous for their Velcro straps, and make a great choice for any hyperactive child.

Flip-flops:
Children itch to run outside to play in the parks, on the beach or by the pool with their friends. Make sure their little feet are comfortable and cool in a good pair of flip flops!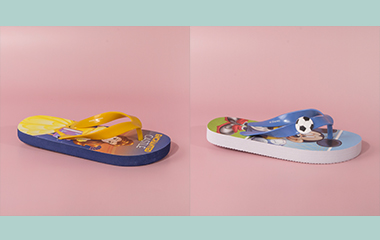 Mary Janes:
A timeless style that blends both fashion and comfort, Mary Janes for girls, is an easy-on-and-off variant after Ballerinas!

Hope this helps in your hunt for the perfect baby shoes for your little one.  #HappyShopping!