Back to blog
Pinterest inspired ways to organize your footwear!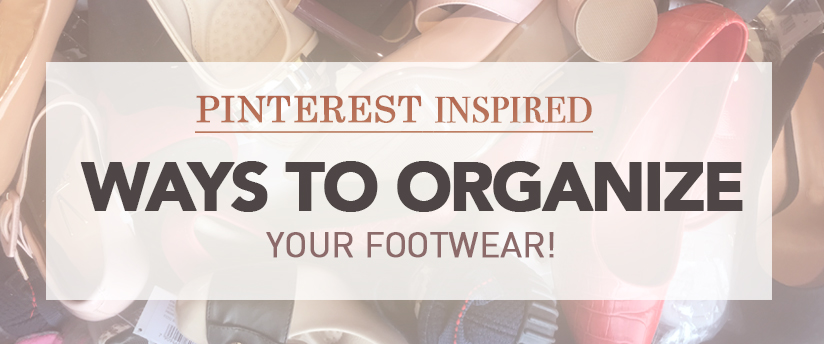 "I have enough shoes!" said no-one ever!
That being said, storing all of them is a task. If you have a fabulous shoe collection, a shoe storage solution is vital to keep them all under control. Hopefully, these shoe organizer ideas will help you keep your 'shoedrobe' well organized!
Flaunt 'em!
Instead of hiding your beautiful shoes behind closed doors, place them on shelves around your room - they are works of art, after all!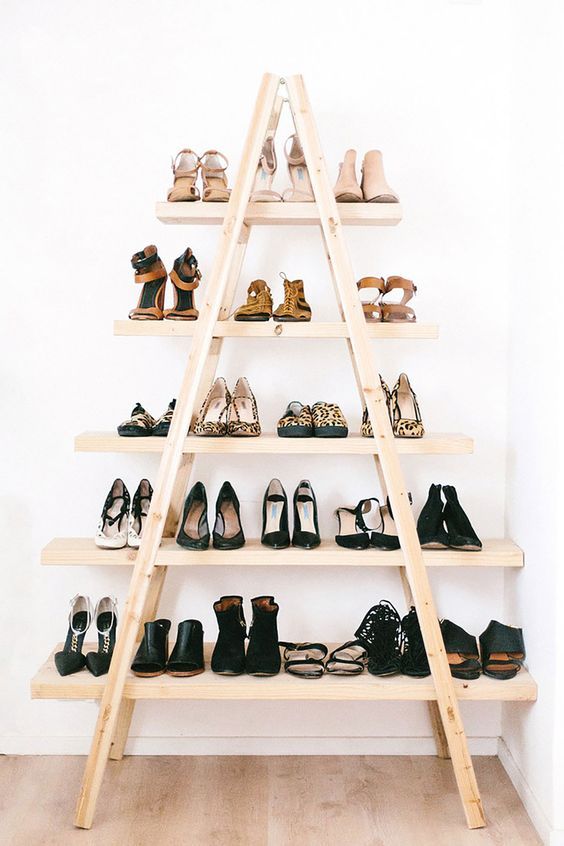 https://in.pinterest.com/pin/14918242494609490/
Shoe tubes!
This easy DIY project involves gluing multiple PVC cells together to create a shoe rack.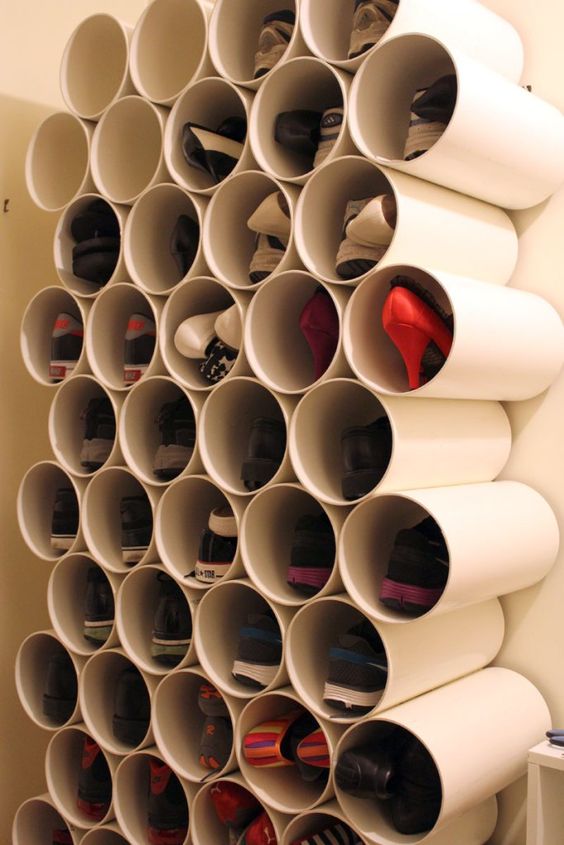 https://in.pinterest.com/pin/399905641893832457/
Mix and match!
Fill your shelf with a mix of stylish goodies, including shoes, bags, jewelry, and fashion magazines.  The display must be a reflection of your personal style!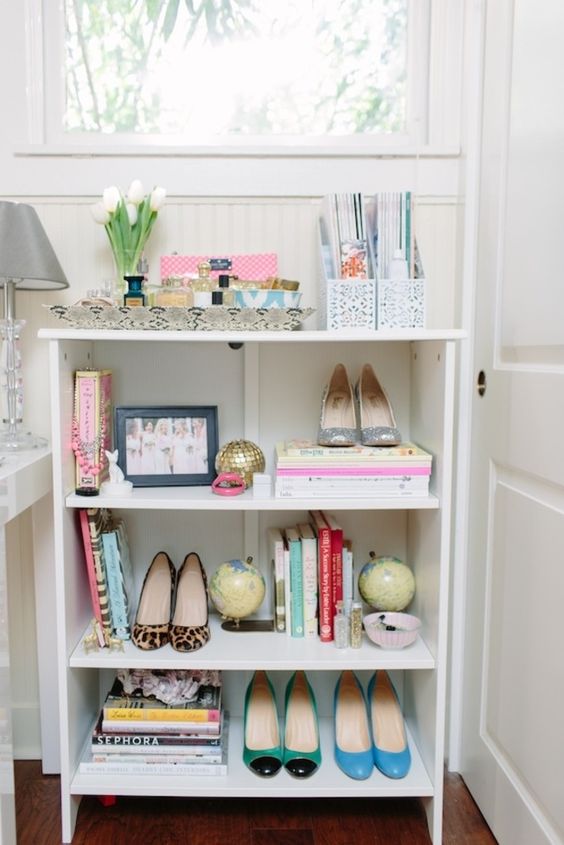 https://in.pinterest.com/pin/367676757069219929/
The ideal way!
Storing your shoes in boxes will not only lead to a more organized shelf overall but will also ensure your footwear always remains in a good condition.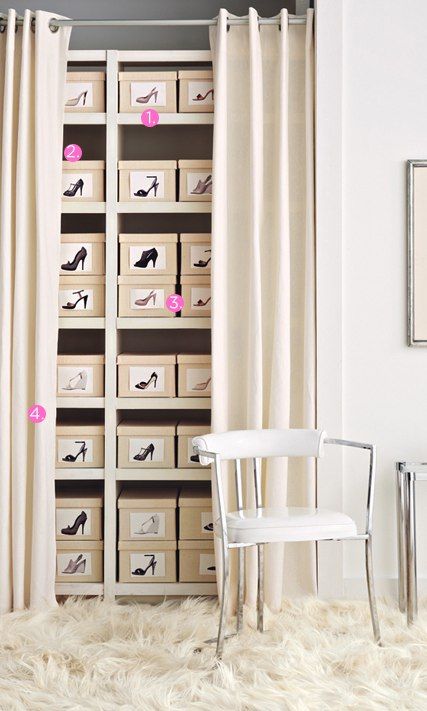 https://in.pinterest.com/pin/453948837415313917/
In a row!
Shoes are an integral part of your wardrobe and should have their own area in your walk-in closet, so don't let shoes mingle with hanging clothes or handbags.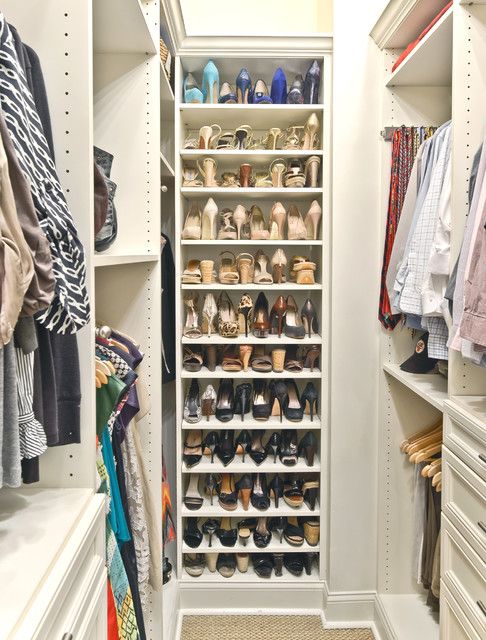 https://in.pinterest.com/pin/689261917941891404/
Pullout drawer!
A sliding drawer takes advantage of the depth of a closet. Closet space is valuable, and pullout drawers effortlessly use every inch of available space.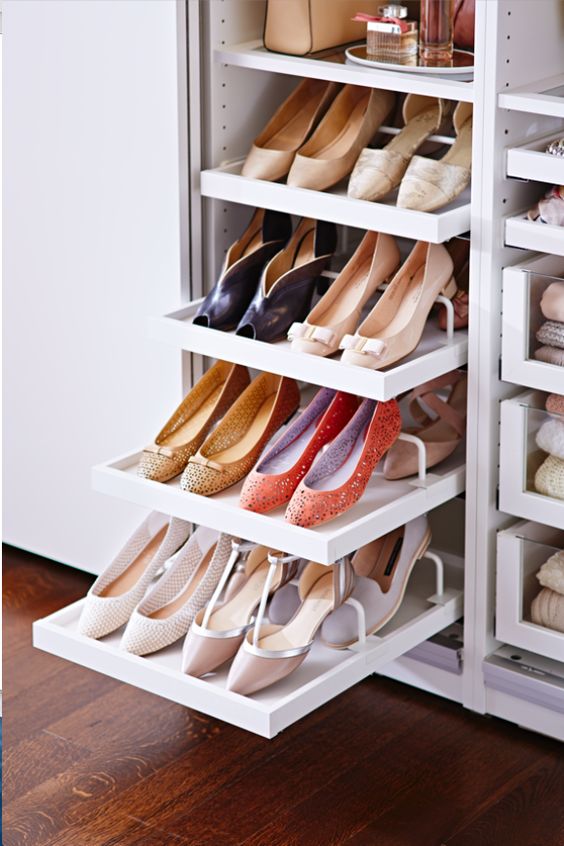 https://in.pinterest.com/pin/387942955385111221/
Discreet cabinet!
The shallow depth of the cabinet is just the right size for storing shoes in a limited space. The top of the storage cabinet can also be utilized to display your decorative pieces and artwork.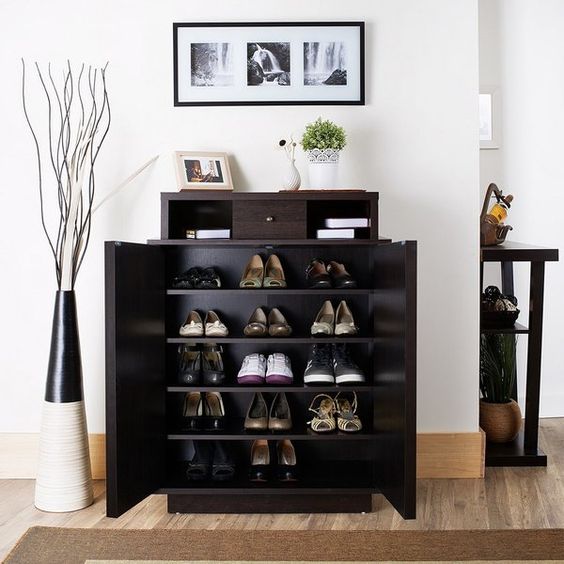 https://in.pinterest.com/pin/176555247876217107/
Shoe-folio!
Combining space saving efficiency and easy access, this shoe folio is perfect for space-saving and access to your most frequently used pairs of shoes.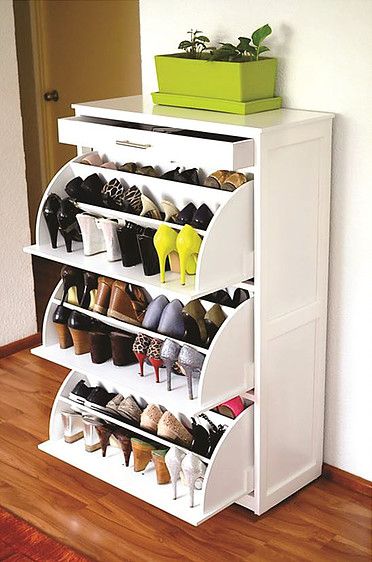 https://in.pinterest.com/pin/770185973748152998/
Under the stairs!
Although stairs are a practical necessity in any multistory home, that does not mean the space cannot serve a multi-functional useful purpose.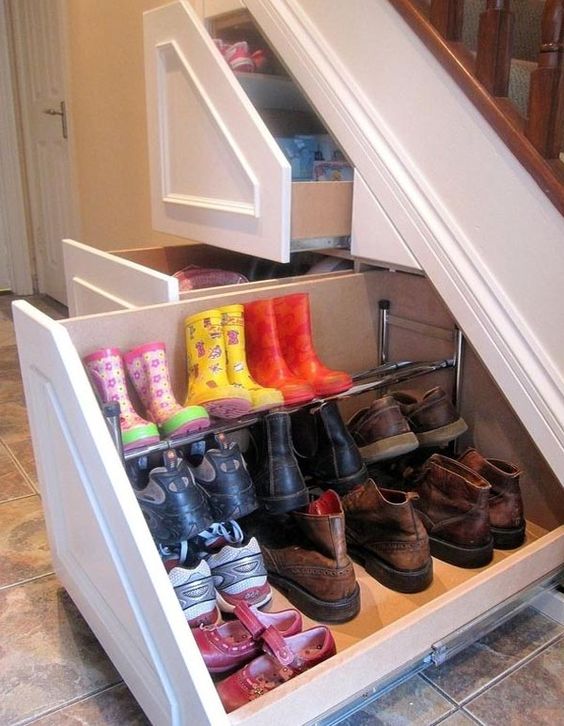 https://in.pinterest.com/pin/413557178258170361
Ottoman!
The storage ottoman is a tremendously innovative design that is efficient and practical. Once you pack in all of your shoes, close the lid, and you have a comfortable shoe-storing bench.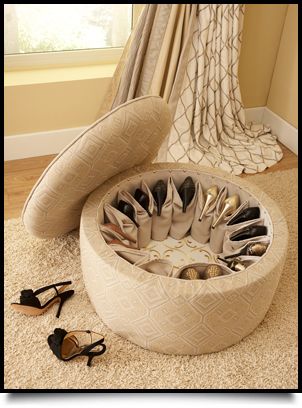 https://in.pinterest.com/pin/289074869811246240/
Door hanging organiser!
When you find yourself out of room in a cramped apartment, the door hanging shoe organizer can really help you eliminate the clutter.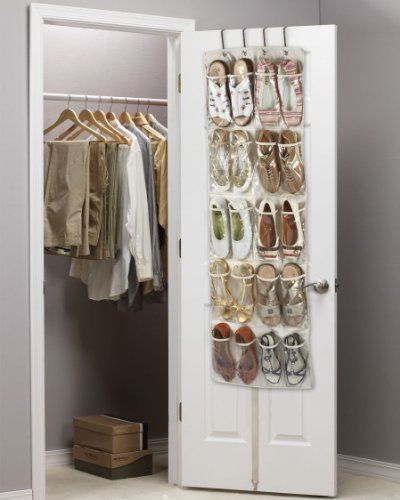 https://in.pinterest.com/pin/447897125418398862/
Formal cabinet!
To give your shoes the secure and beautiful space they deserve, purchase a formal wood and glass shoe cabinet. Reserve this for the best shoes in your collection that only come out for special evenings.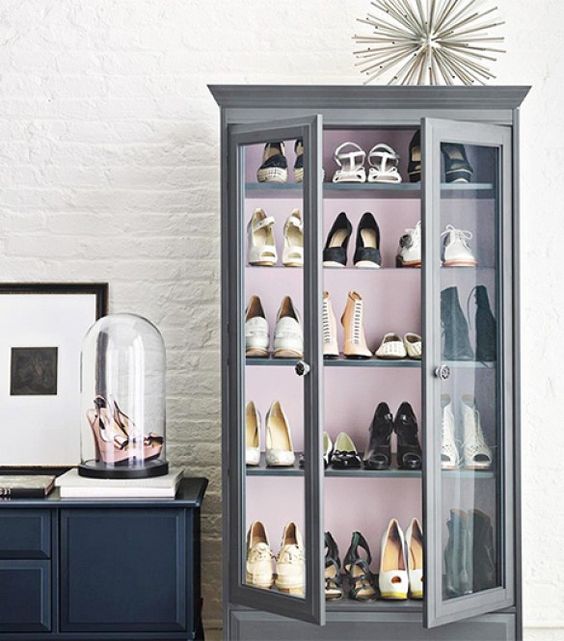 https://in.pinterest.com/pin/126030489548120704/
Metallic mesh!
One of the most creative shoe rack designs is a metallic mesh shoe rack which can easily store your heels.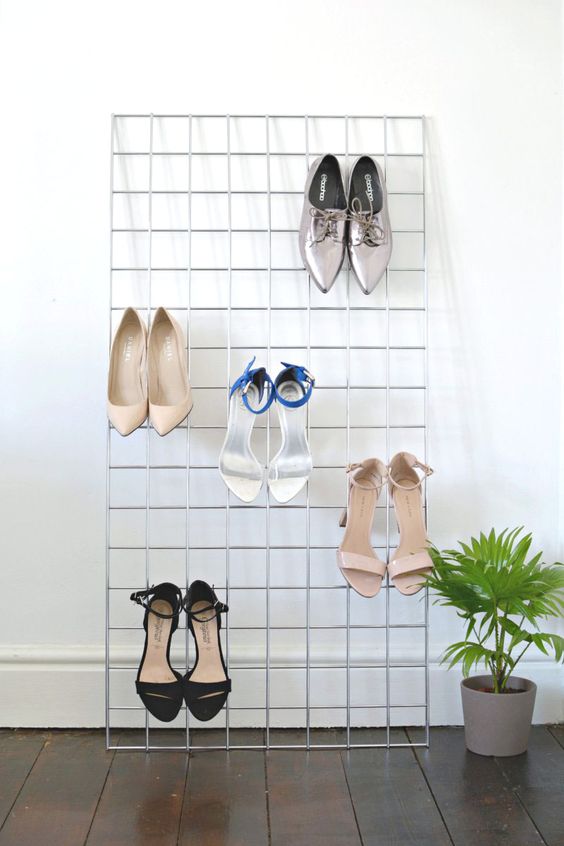 https://in.pinterest.com/pin/325877723014065666/
Circular table!
When you do not have over thirty pairs of shoes, these circular shoe platforms make for a great addition to any apartment.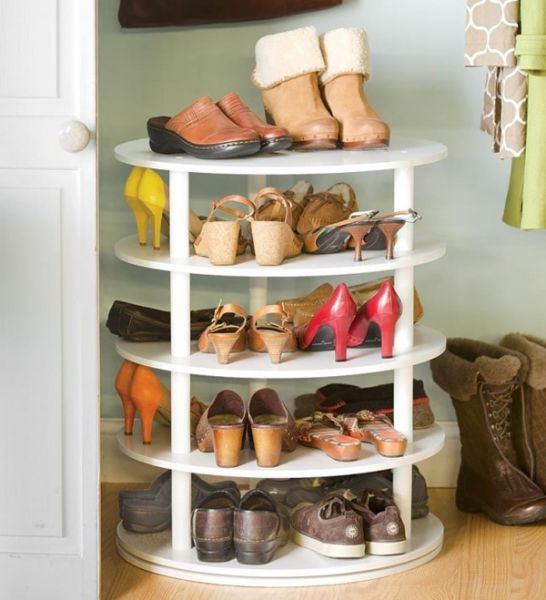 https://in.pinterest.com/pin/690317449102690605/
Closet hangers!
If you have just moved into your home or apartment, this DIY shoe storage idea is a great impromptu solution.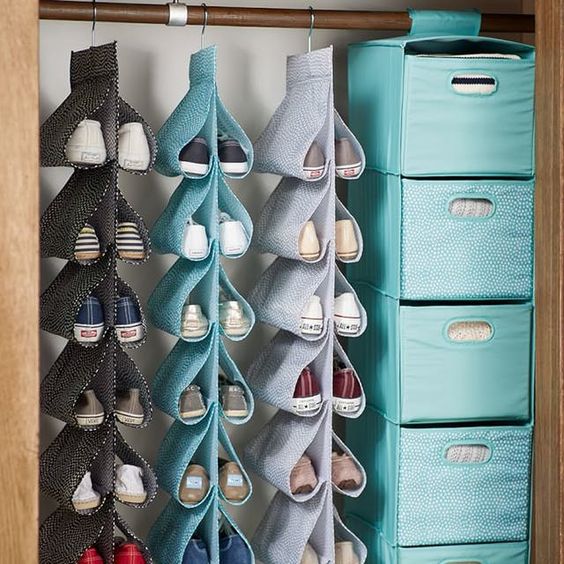 https://in.pinterest.com/pin/360428776419629288/
There are a plethora of shoe storage options available. Choose a design that takes advantage of otherwise unused space, such as the area underneath the stairs or hanging from your door.
Whether it is aesthetics, functionality, saving space, preservation, or ease of access, finding the design that aligns with your needs and preferences is important. A shoe rack is not only functional and practical, but also has the potential to be an interesting part of your home décor!