Back to blog
Check out these cool shoes that fit every new trend!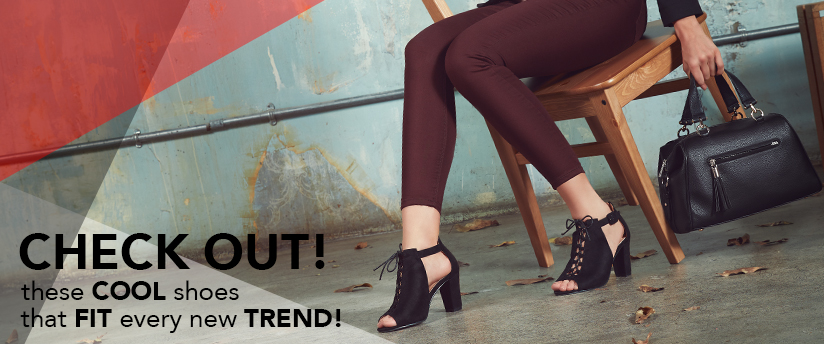 Marilyn Monroe has rightly said, "

Give a girl the right shoes, and she can conquer the world.

" That being said, how does one stay trendy (with the ever-changing fashion trends!) and still not burn a hole in one's pocket while on a shoe purchasing spree? 
The answer is in analyzing (which is an art in itself) and investing on shoes that fit well across trends. When you're spending so much time finding the right pair of shoes, it must be worth the effort!
Right from the statement heels to the comfortable everyday sandals to the fancy yet basic ballets, make sure your closets are all stocked up on these must-haves at every given point in time

. 
1. The Comfy Sandal
Remain in your comfort zone with snuggly sandals or its less cool variant, flip-flops. Spruce up your outfit by opting for bright colored or studded sandals! When we say sandals, make sure it is something that you would be happy to slip into any time of day or night. 

2. The Basic Ballet 
An essential in every closet is a basic pair of Ballerina Flats. These versatile shoes have the ability to take you from a working weekday to the weekend, effortlessly. Don't you agree? 

3. The Statement Stilettoes 
Every girl needs a pair of stilettoes at her disposal, which has the ability to polish her outfit – be it an evening gown or even boyfriend jeans. Opt for heels with a little 'oomph' element. However, a Nude Heel is a "no-questions asked" pair to be owned. 

4. The Essential Casuals 
A woman needs a pair of casual shoes that can be worn while going for a brisk walk or a normal day out with friends. Also, there's no harm in owning a pop colored pair! 

5. The Classy Boots 
Add a classic and classy element to your wardrobe with a pair of boots of your liking. Be it the length (knee high or ankle or over-the-knee) or the style (classic or even combat), get yourself a pair that suits your personal style! 

6. The Funky Shoes
Quirky lifestyle shoes like these are a great addition to any shoe closet. They look a whole lot sweeter with jeans, or a t-shirt dress. 

7. The Wonder Wedges 
These are wardrobe staples; they go well with flared jeans or a fancy retro dress! They are a savior for all 'not a stiletto-type' women, who want to add some extra inches to their height! 

8. The Amazing Chunks 
#DidYouKnow: Chunky heels are making a great comeback from the 90s and are just as dapper as their higher counterparts, both are great comfort options that can be styled up or down effortlessly. Glam up your attire, pair them with formal trousers, body-con dresses, dresses, skirts and oh yes, denims too! 

There are endless combinations that can be achieved with a woman's outfits and her shoes.
Happy experimenting and do let us know which look worked best for you!