Back to blog
Shoe Trends For All Upcoming Holiday Parties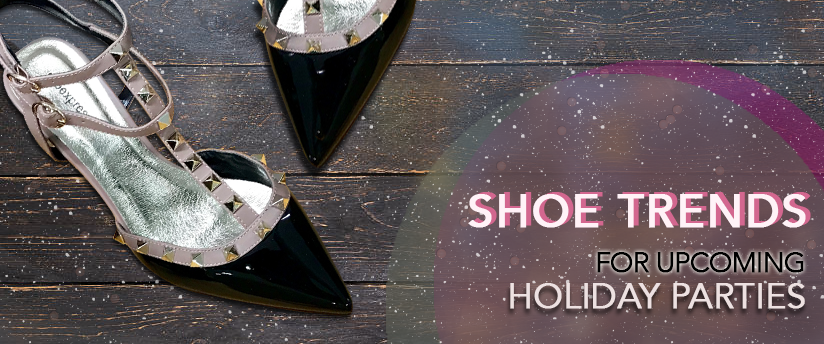 It's December and the marathon of holiday parties is about to begin. Bring on the vivid prints, sparkling sequins and all-around festive attire, and team it up with gorgeous footwear.
Let us perfect your holiday-party shoes now!
Studded Statement
Want to kick it with a little bit of an edge for a party? Explore your shoe rack and go for a pair of studded shoes! Be it a pair of low-heeled studded sandals or high heeled statement heels; you will effortlessly look your best in these spiky wonders.

Pearl Embellishment
Pearls have moved on from accessorizing jewelry and have gone all the way down to accessorizing your shoes. Needless to say, this pretty pearl-embellished pair of footwear can be teamed up with any outfit.Oh, and they look just as pretty when paired with jeans!

Furry Feather
These shoes couldn't be more festive! "Fur"-heels have proved to be a popular party option, with celebrities flaunting their fluffy footwear. Now, it's your turn to stand out at any party with these furry shoes.

Velvet Touch
Velvet has been a wardrobe essential in every form, right from slip dresses to trousers to shoes. And there's good reason for that. Along with adding a luxurious detail to your outfit, velvet also adds a fresh feel to classic shoe styles.

Buckle Up!
A strap across the top and a buckle (or more), this sleek design can be worn with a number of formal looks for everything, from a business meeting to a party! Add a little more style to your ensemble with these pairs. More the buckles, the merrier it looks!


The beauty about the above shoe trends is that they all look equally good when paired with jeansor with a fancy dress. Now that's what we call versatility. What's more, you can continue to flaunt these shoes well beyond the busy holiday season!